Here the Fun Token Roadmap for 2022: the iGaming Revolution
Posted , by Editorial Staff
2021 was an incredible year for FUN Token - through initiatives like the Premium Program, Binance Savings, DPLAY, and more, FUN Token made great strides towards achieving higher utility and ubiquity. Let's take a look at some stats:
204.394 new FUN users;
600 million FUN purchased at FreeBitco.in;
800 million FUN locked in savings mode.
XFUN launch and Funtoken roadmap 2022
However, the launch of XFUN and related features slipped from Q4 2021, primarily due to the need for releasing an impeccable product that's ready to use. Those developments and more are coming in 2022. Take a look at the comprehensive funtoken roadmap 2022 below.
FUN token Q1 2022:

XFUN will be launched and will start being used in production. XFUN/FUN bridge to enable seamless swapping will be released to users.
Non-custodial wallets for iOS and Android will be released. They will integrate with the bridge and possess third-party integration capabilities.
dPlay will add XFUN as a gaming currency alongside FUN. The XFUN Casino will be launched, complete with a wider variety of games.

FUN token Q2 2022:

Operators will be welcomed to use the XFUN platform as a payments mechanism or to harness the decentralized gaming infrastructure.
XFUN will introduce NFTs as prizes and accomplishments on its gaming platform.
FUN Token will establish its home in the Metaverse.

FUN token Q3 2022:

Lay Staking will be introduced to dPlay, allowing users to take the house's side on bets.
The sportsbook tech stack developed by BETR will be ported to the XFUN platform and will cover all major sports and esports.
XFUN Wallet will introduce embedded registration and KYC, enabling one-click signup at third-party operators.

FUN token Q4 2022:

Decentralized casino games with staking pools and on-chain gameplay will be launched.
Users will be able to play fully decentralized poker, on-chain.
FUN token and the future of iGaming
FUN Token is revolutionizing iGaming by putting the control of players' funds back into their own hands. They're using the power of decentralization to create fast, transparent, and trustless online gambling ecosystems for all players to enjoy. Join FUN Token on its journey to comprehensive change.
How you can Purchase Fun token on freebitco.in
If you want purchase fun token on Freebitco.in, follow this simple step by step guide:
Register on Freebitco.in for free.
Sign in your new Freebitco.in account.
From the menu of your account select "PREMIUM", scroll the page and click or tap on the button "BUY/SELL + LOCK".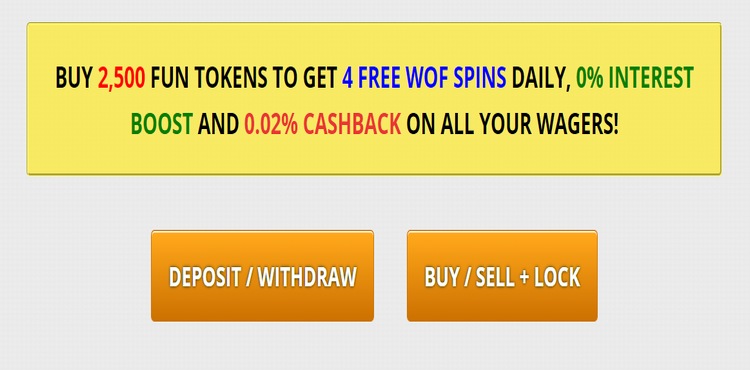 Now select the number of fun token that you want buy. For example 19,000 fun token.
Select lock for 15 days or more (360 days for maximum interests earning) and you receive 25% plus interest on the fun token.
Click on "BUY" fun token button and go To the Moon! 🚀