FUNToken's XFUN Bridge and Wallet Launch Draws Closer
Posted , by Editorial Staff
As we go into the last month of an incredible 2021 for FUNToken, the launch of XFUN on the Polygon network draws ever closer, along with its corresponding Ethereum-Polygon bridge, and dedicated wallet. Let's take a look at what's in store.
XFUN will be a new token on the Polygon network, pegged 1:1 with FUN, and will benefit from the significantly increased performance and lower latency on Polygon. By escrowing FUN Tokens and taking them out of circulation to mint XFUN, the new token will create a dual asset deflationary ecosystem.
Transactions will be gas-free, and swapping between FUN and XFUN will be powered by an Ethereum-Polygon bridge, which will further be housed inside a new non-custodial wallet. This wallet will have the ability to hold both FUN and XFUN, will enable user-friendly swapping, and will allow purchases through third-party processors.
How you can Purchase FunToken on freebitco.in
If you want purchase FUNtoken on Freebitco.in, follow this simple step by step guide:
Register on Freebitco.in for free.
Sign in your new Freebitco.in account.
From the menu of your account select "PREMIUM", scroll the page and click or tap on the button "BUY/SELL + LOCK".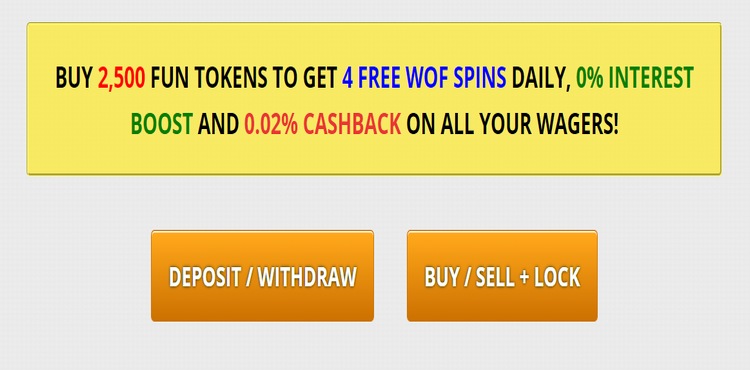 Now select the number of fun token that you want buy. For example 21,000 fun token.
Select lock for 15 days or more (360 days for maximum interests earning) and you receive 25% plus interest on the fun token.
Click on "BUY" fun token button and go To the Moon! 🚀