User Wins 100,000 FUN Tokens at SiGMA Malta Giveaway
Posted , by Editorial Staff
On Nov. 15, FUN Token made its debut at SiGMA Malta, the world's premier iGaming convention. At SiGMA, the FUN Token team interacted with attendees, investors, and casino operators with a view of unlocking new avenues and opportunities for FUN's growth. Among other developments, the upcoming launch of XFUN and its dedicated wallet was a highlight of the team's outreach efforts.
Another highlight was a giveaway designed specifically for SiGMA visitors - a 100,000 FUN Giveaway. The FUN Token booth featured a white Lamborghini; visitors were required to post a picture with the Lamborghini on Twitter, accompanied with the hashtag #MakeItFUN, to participate. Out of hundreds of participants, @syncDcs was randomly selected as the winner of 100,000 FUN.
FUN Token's debut at SiGMA Malta proved to be a massive success and adds to an exciting upcoming month, with the launch of the XFUN wallet on the horizon. Watch this space.
How you can Purchase FunToken on freebitco.in
If you want purchase FUNtoken on Freebitco.in, follow this simple step by step guide:
Register on Freebitco.in for free.
Sign in your new Freebitco.in account.
From the menu of your account select "PREMIUM", scroll the page and click or tap on the button "BUY/SELL + LOCK".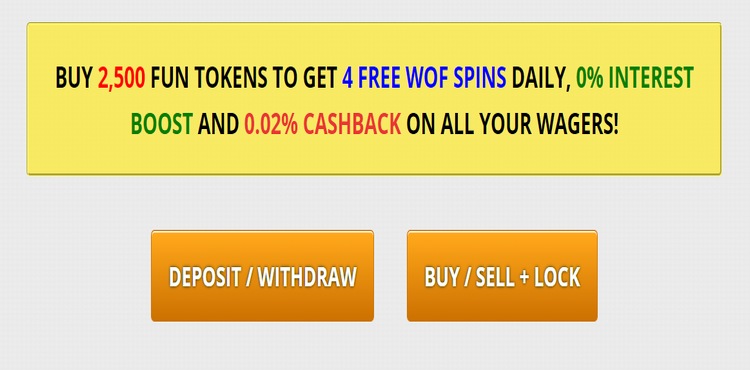 Now select the number of fun token that you want buy. For example 21,000 fun token.
Select lock for 15 days or more (360 days for maximum interests earning) and you receive 25% plus interest on the fun token.
Click on "BUY" fun token button and go To the Moon! 🚀