$FUN Purchased on FreeBitco.in Faucet Crosses the 600 Million Mark
Posted , by Editorial Staff
Eight months after the launch of the Premium Membership Program at FreeBitco.in, $FUN token has reached a new milestone - tokens purchased at FreeBitco.in hit 600 million last week.
$FUN token was introduced to the FreeBitco.in user base in February and it has gone from strength to strength ever since. We saw the launch of DPLAY - the exclusive $FUN casino in August combined with features like FUN Token Savings and BUY + LOCK at FreeBitco.in. Furthermore, anticipation over upcoming developments including XFUN on the Polygon network has helped grow $FUN token to new heights in 2021.
Stay tuned, because there's still a lot to come. Meanwhile, keep yourself occupied with state-of-the-art casino games at DPLAY. Click here to get started.
How you can buy Fun token on freebitco.in
If you want buy fun token on Freebitco.in, follow this simple step by step guide:
Register on Freebitco.in for free.
Sign in your new Freebitco.in account.
From the menu of your account select "PREMIUM", scroll the page and click on the button "BUY/SELL + LOCK".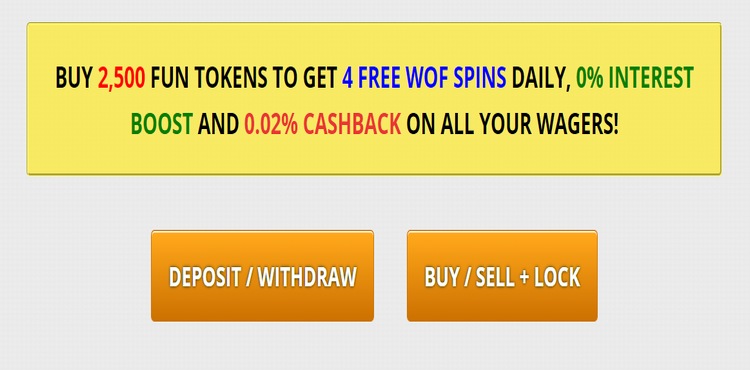 Now select the number of fun token that you can want purchase. For example 15,000 fun token.
Select lock for 15 days or more (360 days for maximum earning) and you receive 25% plus interest on the fun token.
Click on "BUY" fun token button and go To the Moon! 🚀