FreeBitco.in Users Are Availing Reward Point Bonuses to Actively Grow FUN Token Holdings
Posted , by Editorial Staff
Introduced in October, the FUN Token Reward Point Bonuses allow FUN users at FreeBitco.in to grow their holdings in a unique way. Redeeming RP (Rewards Points) to activate the bonus helps users earn up to 5 tokens on every free roll, for a maximum of 24 hours.
The steps are easy: on the Rewards page at FreeBitco.in website, click on the tab FUN TOKENS BONUS. Choose the bonus you want, hit REDEEM, and every Free Roll credits FUN Tokens to your account.
Furthermore, users can also avail a Wheel of Fortune Bonus to earn up to 5 Free Spins on every Free Roll. Acquiring more FUN Tokens and Free Spins helps users boost their Premium Membership Benefits and their chances of winning a Rolex, an iPhone, Golden Tickets, and more.
How you can Purchase Fun token on freebitco.in
If you want purchase fun token on Freebitco.in, follow this simple step by step guide:
Register on Freebitco.in for free.
Sign in your new Freebitco.in account.
From the menu of your account select "PREMIUM", scroll the page and click or tap on the button "BUY/SELL + LOCK".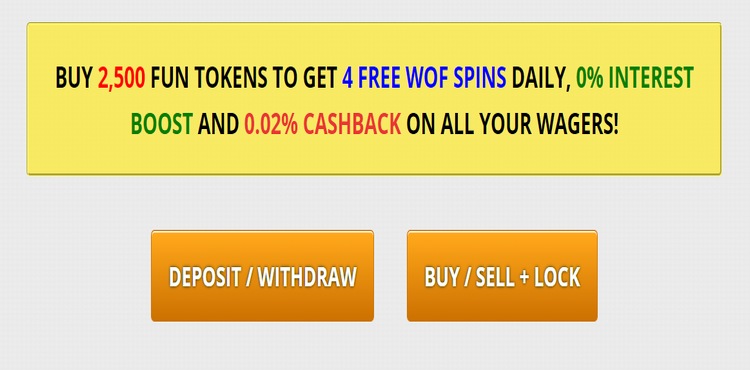 Now select the number of fun token that you want buy. For example 19,000 fun token.
Select lock for 15 days or more (360 days for maximum interests earning) and you receive 25% plus interest on the fun token.
Click on "BUY" fun token button and go To the Moon! 🚀