XFUN token. The iGaming Token for a New Age on Polygon
Posted , by Editorial Staff
As Q1 2022 came to an end, the FUNToken team kept its promise by introducing XFUN - the decentralized iGaming ecosystem for the modern player. Read on to get acquainted with XFUN.
It now ranks 22nd by TVL on Uniswap, above the likes of LINK, MKR, SAND, AAVE, and more. FUNToken also hit close to $1 million in daily volume on the day.
XFUN token on Polygon
The XFUN ecosystem is based entirely on the Polygon network and is powered by the XFUN Token. The token is pegged 1:1 with FUNToken and it's faster, has lower latency, and is completely gas-free, resolving FUN's issues on the Ethereum network.
View the XFUN smart contract here:
https://polygonscan.com/token/0x8Cf745561791A43d70F75e85FbC6e3752395C5f0
FUNTokens swapped for XFUN are escrowed from the Ethereum mainnet, effectively taking them out of circulation and creating a dual asset deflationary ecosystem. The swapping, transfers, and transactions are handled by the XFUN Wallet.
XFUN Wallet
The XFUN Wallet features a proprietary FUN-XFUN bridge that allows users to swap tokens and keeps the deflationary mechanism running. The wallet also enables users to store, send, or receive FUN, XFUN, BTC, MATIC, ETH, and other ERC-20 tokens.
Through Wallet Connect, players can connect the wallet to their DPLAY.Casino accounts and play straight-from-the-wallet using XFUN. Furthermore, the wallet also powers decentralized, non-custodial gaming on the XFUN Casino. The XFUN Wallet is available on both iOS and Android.
How you can Purchase FunToken on freebitco.in
If you want purchase FUNtoken on Freebitco.in, follow this simple step by step guide:
Register on Freebitco.in for free.
Sign in your new Freebitco.in account.
From the menu of your account select "PREMIUM", scroll the page and click or tap on the button "BUY/SELL + LOCK".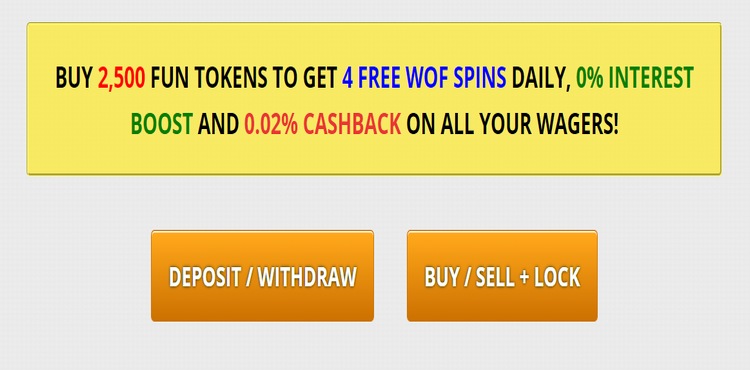 Now select the number of fun token that you want buy. For example 21,000 fun token.
Select lock for 15 days or more (360 days for maximum interests earning) and you receive 25% plus interest on the fun token.
Click on "BUY" fun token button and go To the Moon! 🚀